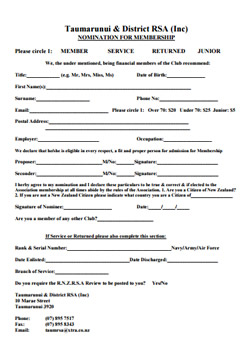 Membership is open to persons 18 years and over. A nomination form for membership needs to be filled out. Membership fees for the 2016 year are $25 for 18 to 69 years of age and $20 for over 70's.
Each nomination form and photo goes before the Executive Committee meeting held on a monthly basis. If the nomination is accepted the new member is sent out the activities of the club and also the rules.
We also have Junior membership for 14 to 17 years of age for $5. They are nominated for membership by a members family. Junior members can enjoy all the clubs facilities with the exception of the Gaming room. They cannot purchase any alcohol.
Visitors to the club must sign the Visitors book at the front entrance. The office hours are 11am to 5pm. Outside these hours direct your enquiries to the Bar staff.
Make yourself known and enjoy our hospitality.