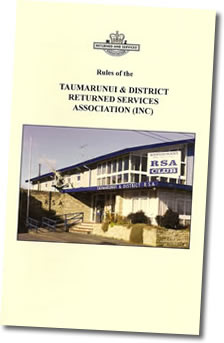 Welcome to the Club. Here are a few things we would like you to know about the Club. We hope you will enjoy being a member here.
We give you a Membership booklet on joining with all of the membership information included.
Please feel free to call in to the office and discuss any concerns or praise you may have.
NOTICES
The Club has a notice board at the front entrance as well as a board inside the Club near the bar. Please check them for coming events as well as relevant information regarding the Club.
HOURS OF THE CLUB
Monday to Saturday the Club is open from 11 am.
Sunday the Club opens at 1 pm & in Winter the Club opens at 11.30am. Friday and Saturday nights are our late nights closing approx midnight.
Most other nights we close approx 9 pm depending on patronage.
RESTAURANT
Our Club Restaurant is open 7 nights per week from 5.30 pm.
The Restaurant is also open in Winter on Sundays from 12noon – 2pm for $10 Roasts.
Bookings are not essential but advisable so please phone the office on 895 7517.
ENTERTAINMENT
We have at the Club DVD Big Screen and Sky and a free Juke Box operating for your entertainment.
Friday and/or Saturday nights are usually our nights for entertainment. Either fortnightly or monthly we have a band here so please keep an eye out for the advertisements in the Ruapehu Press.
We also have notices up and around the Club.
COURTESY VAN
The courtesy van is available for Club patrons running on Friday, Saturday evenings from 4.30 pm. It is an excellent idea to phone for the van instead of driving under the influence.  The van also operates on Tuesdays from 5pm & Sundays from 11.30am – 5pm. Please phone 895 7517.
We encourage you to use the service.
1 For your own safety and 2 If a person leaving the club over the legal driving limit could jeopardise the club licence. We also encourage you to donate for this service into the Welfare boxes available as the cost of fuel has risen dramatically. This could also help us to extend the service.
SPORTS & RECREATION
The Club has 3 snooker tables, 2 pool tables, darts and indoor bowls all available at no charge.
Every Tuesday from 6.15pm we have a quiz night with prizes.
Friday nights from 6.30pm we have a pool competition.
RAFFLES & MEMBERSHIP DRAWS
Raffles are available throughout the week.
Tuesday – 100 tickets @ $2.00 each. Prizes 2 x $100.00.
Thursday – 50 tickets @ $2.00 each. Prize $100.00.
Friday – 100 tickets @ $2.00 each. Prizes 2x $100.00.
Friday – 100 tickets @ $2.00 each. Prizes 3 x $50.00.
Membership draws are on Tuesday and Friday nights 1 draw between 6 and 7 pm. Friday night 1 envelope is chosen from 10 envelopes containing vouchers $100 – $1000.
You can also win a $25 Restaurant voucher by putting your member number into the box at the bar.
You are eligible for the draws by being in the Club when drawn and being a financial member.
You must have your membership card on you to collect membership draws.
SUBSCRIPTIONS
Your subscription pays for capitations fees payable to Clubs NZ and RNZRSA, quarterly newsletters, AGM information and administration costs. You are very welcome to sign in guests, however they are under your supervision and responsibility at all times.  Please remember to let us know when you change address so that we can send subscriptions to the right address.
If their actions are unfavourable disciplinary action will be taken against you, which could possibly lead to your expulsion from the Club.
MEMBERSHIP CARD
This must be in your possession when at the Club. Membership cards must be produced to collect membership draws and if an Executive or staff member of the club requests you to produce your card as proof of membership. Lost cards must be reported to the office or bar as soon as possible. $5.00 is payable for a new card. If your card is lost and you have reported it you will still be entitled to be in the weekly membership draws.
When signing in visitors you must not leave the premises while they are still in the club.
STANDARD OF DRESS
No head gear is to be worn in the Club at any time unless permission is given by the committee in writing.
The following dress is not permitted:
Work boots Singlets Torn or tatty apparel.
The committee and staff can refuse entry to the Club at their discretion. Club members have the right to query any decision made by a committee or staff member in writing addressed to 'The Chairman'.
GAMING MACHINES
Entry to the Gaming is permitted by members, affiliated members and members guests who are signed in by a member. Payouts, Jackpot or otherwise must be accompanied by the members signature and membership number.
Only one gaming machine can be played at any one time. Failure to comply with this will lead to expulsion from the gaming room.
This is a Department of Internal Affairs policy.
SMOKING
No smoking is permitted in the clubrooms including offices and toilets. A smoking area is available outside, accessible between the Bar and Restaurant exit.
Please do not smoke outside the front entrance.
BADGES
We have available for purchase from the office Returned and Service badges for Returned and Service persons at $2.50 each.
Also available are the 90th Anniversary ANZAC Day badge at $10 each